Women's Golf Clubs
There isn't anything quite like the feeling of hitting a great golf shot.
Unfortunately, it is much easier said than done. Women's golf clubs have come a long way when it comes to their design and playability. Clubs are now designed with more flexible shafts and club heads that really help get the ball airborne.
For the average woman golfer, not being able to hit consistent shots can make the game very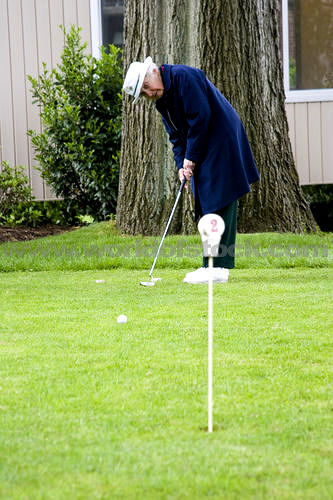 frustrating. Playing with the wrong equipment can make it very difficult to hit those consistent shots.

The hottest trend right now with women's clubs is having most of the set made up of hybrid clubs. These clubs are meant to make the difficult shots required for golf much easier for the average golfer.

It should be noted that most golf club companies are catering to the average golfer. Golfers that have been playing for many years and are very skilled have a more discerning eye when shopping for clubs.

For the average woman shopping for women's golf clubs, finding one of these hybrid sets is a good way to improve their game. Most of these hybrid clubs are referred to as game improvement clubs.

A hybrid is essentially a combination of a fairway wood and an iron. Since long irons are typically the most difficult clubs to hit, the hybrid was created to give golfer's a club that would produce a ball flight and distance that a long iron would, but be as easy to hit as a wood.

The popularity of the hybrid has caused golf clubs makers to extend
them all the way through the sets to replace most, if not all of the irons.

As with all golf clubs, when you are shopping for a hybrid set of clubs, you will find a wide variety of prices. Many women's golf clubs are made by the top golf club makers, but there are also many sets coming out that are more affordable for the average or beginning golfer. Price often does reflect quality when it comes to golf clubs, so that is something to keep in mind when shopping.

The other factor to consider is how many hybrid clubs you want in your set. If you feel comfortable hitting short irons, then buy a set that still includes them. If you want a full hybrid set, that is also an option.

When shopping for women's golf clubs, consider a hybrid set as a good way to improve your game without making too many other changes. The hybrid clubs will be easier to hit, and this will give golfers much more confidence on the course. Believing that you will hit a good shot before you make the swing is half the battle of enjoying the great game of golf.

I recommend clicking here to check out Womens Golf Clubs by Bellissima. I receommend Bellissima because they have already established a name for themselves by offering quality clubs designed especially for women by accommodating to the fact that women swing differently then men do.



Womenís Golf Clubs Ė How to Find the Best Set To Buy

Finding womenís golf clubs can be a hassle, as there is a wide selection to choose from. This article aims to help women find the golf clubs suited for them through discussion of aspects of how the club is made. After reading this article, women should be able to pick the golf clubs that they can use to learn the game and to be better at it Ė starting with the difference between men and womenís golf clubs.

The main differences to take note of with menís clubs and womenís clubs are the weight and the grip. Generally, menís golf clubs are heavier than those of womenís. This does not affect the flight of the ball, as it depends on the swing. Also, the handle grips are designed differently for each sex. The grip allows women to take on a better swinging form. A better form is a better swing, and a better swing is what makes a good golfer.

In contrast, simply swinging the club will not make much of a difference in ball flight if not for other additional factors. The length of the golf club should be taken into consideration as well. For instance, if you are a little vertically challenged, then some clubs may be too long for you causing you to grip them nearer to the middle of the shaft. This affects the swing, so itís better if you can pick out a club that is just the right length for you.

Another important factor is the loft. The loft is what determines the height arc of the ball, and is a factor in how far the ball travels. Consider your swinging skills. If you lack a bit of power, then a higher loft golf club can help you get the ball closer to the hole. Either that, or you can simply practice until you develop more swinging power.

When looking for womenís golf clubs, the internet is an excellent source. You can get them for cheap, if not discounted, prices. You might want to head over to the nearest sports store to try out which clubs feel good for you. Remember their specifications and look for them online to get a bargain. Click here for more info on women's golf clubs.






Back to Golf Clubs For Sale homepage